MPA and Shell Sign MoU to Accelerate Maritime Decarbonisation Efforts in Singapore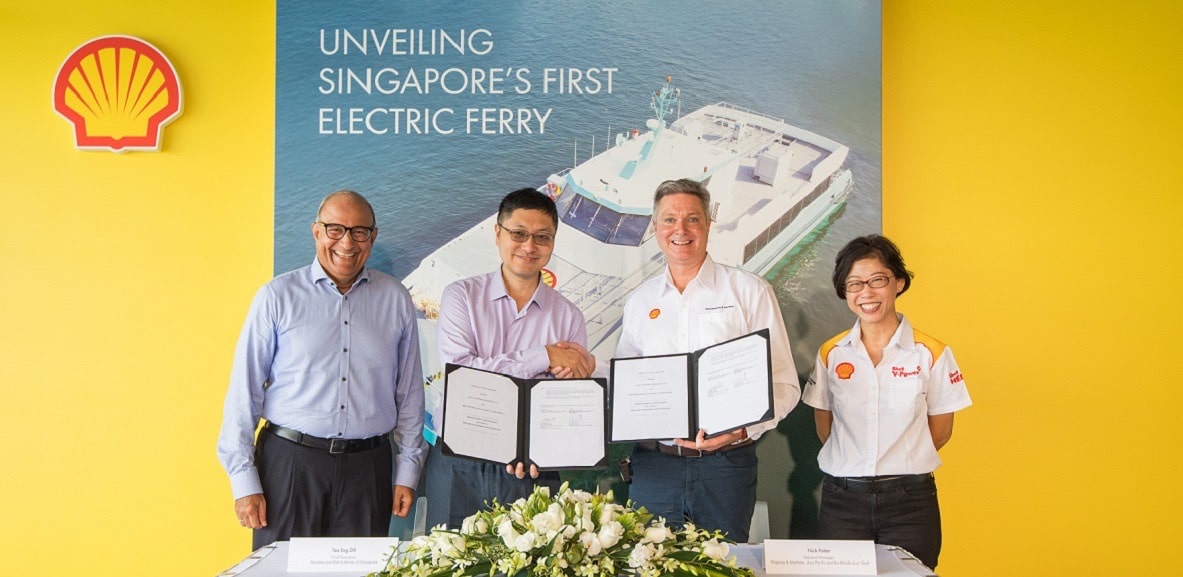 The Maritime and Port Authority of Singapore (MPA) and Shell Eastern Trading Pte Ltd (Shell) signed a memorandum of understanding (MoU) to expand collaboration on the maritime decarbonisation efforts in Singapore. The MoU was signed by Mr Teo Eng Dih, Chief Executive of MPA and Mr Nick Potter, General Manager of Shell Shipping and Maritime for Asia Pacific and the Middle East. The signing was witnessed by Mr S Iswaran, Minister for Transport and Minister-in-Charge of Trade Relations and Chairman of Shell Companies in Singapore, Ms Aw Kah Peng.
2. As part of the five-year MoU, MPA and Shell will work together to advance the adoption of electric harbour craft and the development of low-and zero-carbon fuels in Singapore.
3. To support the adoption of electric harbour craft, MPA and Shell will identify energy-related development opportunities. This includes collaboration on charging infrastructure for electric harbour craft. Both parties will also work together on the research and development of low-and zero-carbon fuels. This includes the training of crew in the handling, operations and maintenance of vessels operating on such fuels.
4. "MPA is committed to working with industry partners, like Shell, to drive decarbonisation efforts in the maritime sector. Our partnership with Shell will tap into both MPA's and Shell's expertise in maritime decarbonisation, renewable energy and innovation. The MoU is an important step towards achieving our 2030 goal for all new harbour craft to be fully electric, be capable of using 100% biofuels or be compatible with net zero fuels, and achieving net zero emissions in our harbour craft,pleasure craft and tugboat sectors by 2050," said Mr Teo Eng Dih.
5. "We are delighted to sign this MoU with MPA which paves the way for continued collaboration on a variety of decarbonisation solutions, including electrification and low-and zero-carbon fuels. Shell is working closely with industry stakeholders from across the value chain to explore the fuel and technology pathways to shipping decarbonisation, and later this year, we plan to kick off a hydrogen fuel cell trial on a Shell-chartered vessel," said Mr Nick Potter.
6. The MoU signing took place at an event held by Shell to unveil the first of a series of electric ferries in Singapore, and the first for Shell globally, held at the Shell Energy and Chemicals Park Singapore on Pulau Bukom. Shell worked with a Singaporean homegrown shipbuilder and shipowner, Penguin International, on the first fully-electric ferry service in Singapore. Penguin is the turnkey designer, builder, owner and operator of the electric ferries and their rapid shore chargers.
7. Dubbed by Penguin as the Electric Dream project, the first electric ferry, Penguin Refresh, is scheduled to commence operations in May, ferrying Shell personnel, contractors, and visitors between Pasir Panjang Ferry Terminal and Pulau Bukom. Two additional electric ferries will be operational in August 2023.
8. MPA will work with Shell to make its charging facilities at Shell Energy and Chemicals Park Singapore available for other electric harbour craft users. Shell isalso exploring the feasibility of expanding the shore charging infrastructure on the island. Please refer to the Annex for the Electric Dream Project factsheet.