Singapore Port Information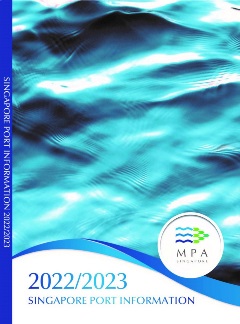 SINGAPORE PORT INFORMATION 2022/2023
The publication contains quality colour chartlets, showing important maritime information in the Singapore Port Waters as well as the Straits of Malacca and Singapore.
The publication is a compendium of essential maritime information including operational information and regulations such as:
Guide to VHF Communication
Pilotage Guidelines and Procedures
Port Clearances and Reporting
Port facilities and guides to major port entry
IMO adopted separation schemes, the routeing system in the Straits of Malacca and Singapore

In addition, this publication also provides the following:
Characteristics of all the aids to navigation along the Singapore Strait and Singapore Port Waters
Catalogue of Nautical Charts

A comprehensive reference in graphical and textual form for all Singaporean and Dual Badged Charts. This catalogue gives full details for each chart and its publication date. Details of chart agents and appointed Singapore Electronic Charts (ENC) distributors are also included.
To whom will it be useful
Mariners, shipping communities, port users and other interested users.
Frequency/Year of Publication
Once every 2 years
Cost of publication
To be advised by Chart Distributors.
Order Enquires
This publication is available from any of the following chart distributors:
E.W. Liner Charts & Publications Pte Ltd
100 Pasir Panjang Road
#05-10
Singapore 118518
Tel: (65) 6323 0773
Fax: (65) 6323 0775
Email: sales@ewliner.com
Website: http://www.ewliner.com
Novaco Navigation Pte Ltd
3791 Jalan Bukit Merah
#05-07 E-Centre @ Redhill
Singapore 159471
Tel: (65) 3163 3253
Email: support@novaco.co.uk
Website: https://novaco.co.uk
OneOcean Maritime Solutions Pte Ltd
230 Victoria Street
Level 15, Bugis Junction Towers
Singapore 188024
Tel: (65) 6545 9880
Email: Singapore@oneocean.com
Website: http://www.oneocean.com
Weilbach Singapore Pte Ltd
237 Alexandra Road
#06-18 The Alexcier
Singapore 159929
Tel: (65) 6273 0833
Email: sales@weilbach.com
Website: www.weilbach.com

Information provided in this publication is correct up to the time of printing based on data available at the Hydrographic Division, Maritime and Port Authority of Singapore.