Maritime Frontier
Maritime Frontier – Charting our ITM Journey
Maritime Frontier is a quarterly electronic newsletter produced by the Maritime and Port Authority of Singapore (MPA). The publication aims to inform and engage the maritime industry as well as workforce in Singapore on the various initiatives and opportunities under the four pillars of Productivity, Innovation, Jobs and Skills, and Internationalisation of the Sea Transport Industry Transformation Map.

You can subscribe to the newsletter by completing the online form here.
For any enquires, drop us an email at MaritimeFrontier@mpa.gov.sg.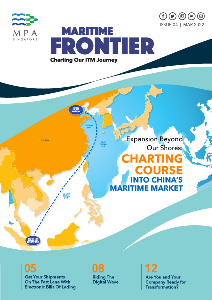 Issue 4/ Mar 2022
In this issue of Maritime Frontier, we talk to Ocean Network Express, one of the largest container carriers in the world, about the use of electronic bills of lading — whether the trial was successful and the risks that would be involved. We'll also reveal how digitalisation has helped to transform IMC Industrial Group, a leading maritime and industrial supply chain solutions provider, into a "future-fit" organisation.
If you've set your sights on doing business with China, ESG events like the Singapore-Tianjin Maritime Innovation webinar could be your alternative to networking with Chinese maritime enterprises and government agencies amidst the pandemic. Last but not least, we invite all maritime companies in Singapore to get a head start with manpower transformation and reskilling through MPA's career and talent initiatives with the industry.
Issue 3/ Jun 2021
In the 3rd issue of Maritime Frontier, we turn the spotlight on using innovative wearable technologies as a viable solution for safer crew changes in midst of the COVID-19 pandemic. Also, find out how local maritime SME – Hiin Holdings, incorporated digital banking solutions to streamline financial transactions and improve productivity.

Interested to expand your business overseas? We have invited David Yeo, founder and CEO of Innovez One, to reveal how his company is making waves internationally with Marinetech. Last but not least, we outlined five helplines that maritime companies could use to accelerate workforce transformation and navigate the sea of change.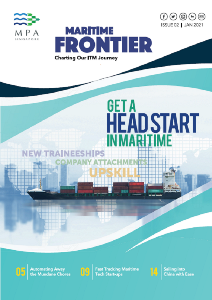 Issue 2/ Jan 2021
In the second issue of Maritime Frontier, we spotlight the wide-ranging training opportunities aimed at deepening the capabilities of our maritime workforce. We also speak to the founders of Orient Maritime Agencies, a local SME who has benefitted from digitalisation – thanks to the Maritime Cluster Fund - Productivity. For those with innovative ideas to pitch to the maritime industry, find out how MPA's PIER71 and Smart Port Challenge has been enabling new start-ups to accelerate growth. Meanwhile, Enterprise Singapore has been creating virtual missions that connect local enterprises to maritime opportunities in China.
Are you ready to ride the next wave of maritime digitalisation?
Issue 1/ Sep 2020
The inaugural issue of the Maritime Frontier looks at the integral role the Sea Transport Industry Transformation Map (ITM) plays in charting Singapore's maritime journey in this current climate of increased uncertainty.

Key initiatives under the Sea Transport ITM are featured in interviews with Mr Kenneth Lim, MPA's Chief Technology Officer and Senior Director, Innovation, Technology & Talent Development; and Mr Ong Kim Pong, Regional CEO Southeast Asia, PSA International as well as via a case study of Tian San Shipping's adoption of the Sea Transport Industry Digital Plan to accelerate its digital transformation efforts.

This issue also showcases the rich experiences of traineeships from the eyes of Ms Cindy Yeow and Mr Luqmanul Bin Yusof who have joined BSM as trainees under the SGUnited Traineeships Programme.
Copyright
Maritime Frontier is a publication of the MPA. The contents of this publication may not be reproduced without the written permission of MPA.
Privacy Policy
This privacy policy applies to the Maritime Frontier e-Newsletter and/or marketing materials.
If you provide us with personally identifiable data (whether directly or on your behalf),
a. We may share necessary data with other Government agencies, so as to serve you in the most efficient and effective way unless such sharing is prohibited by law.
b. We will NOT share your Personal Data with non-Government entities, except where such entities have been authorised to carry out specific Government services, i.e. to our vendor for the purpose of disseminating the Maritime Frontier e-newsletter.
To safeguard your Personal Data, all electronic storage and transmission of Personal data is secured with appropriate security technologies.
The Maritime Frontier e-newsletter may contain links to third party websites whose data protection and privacy practices may differ from ours. We are not responsible for the content and privacy practices of these other websites. You are encouraged to review the privacy statements of such websites, so that you can better understand how these websites collect, use and share your information.
We may review and change this policy from time to time, you can check this page to ensure that you are aware of any changes.