Chart Symbols and Abbreviations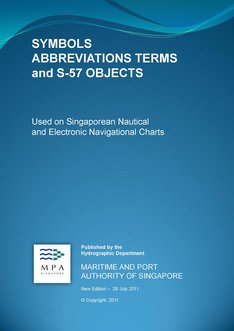 SYMBOLS ABBREVIATIONS TERMS AND S-57 OBJECTS USED ON NAUTICAL AND ELECTRONIC NAVIGATIONAL CHARTS

This publication contains the Symbols Abbreviations Terms and S-57 Objects used on International as well as national Nautical and Electronic Navigational Charts of the Hydrographic Department, Maritime and Port Authority of Singapore. These are based on the Chart Specifications and S-57 Specifications of the International Hydrographic Organization (IHO).
The layout and numbering of this publication accords with the IHO version of INT Chart No. 1 and is offered free of charge.
If you need a hardcopy of this publication, you may purchase the equivalent UKHO Chart No. 5011 or IHO INT Chart No.1.