Single Window Port Clearance

Single Window Port Clearance
digitalPORT@SGTM streamlines vessel, immigration and port health clearances across multiple agencies into a single application by consolidating 16 separate forms. Shipmasters and ship agents from more than 550 shipping companies can now submit, track and receive approval for arriving and departing ships through the portal. As a result, the industry can save up to 100,000 man-hours per year.
In its next phase, digitalPORT@SGTM will optimise port resources and enhance efficiency through artificial intelligence by facilitating just-in-time operations for optimal vessel passage planning at the Port of Singapore. digitalPORT@SGTM will also act as the single digital shopfront for booking of marine services.
To log in to digitalPORT@SGTM or to find out more, click here.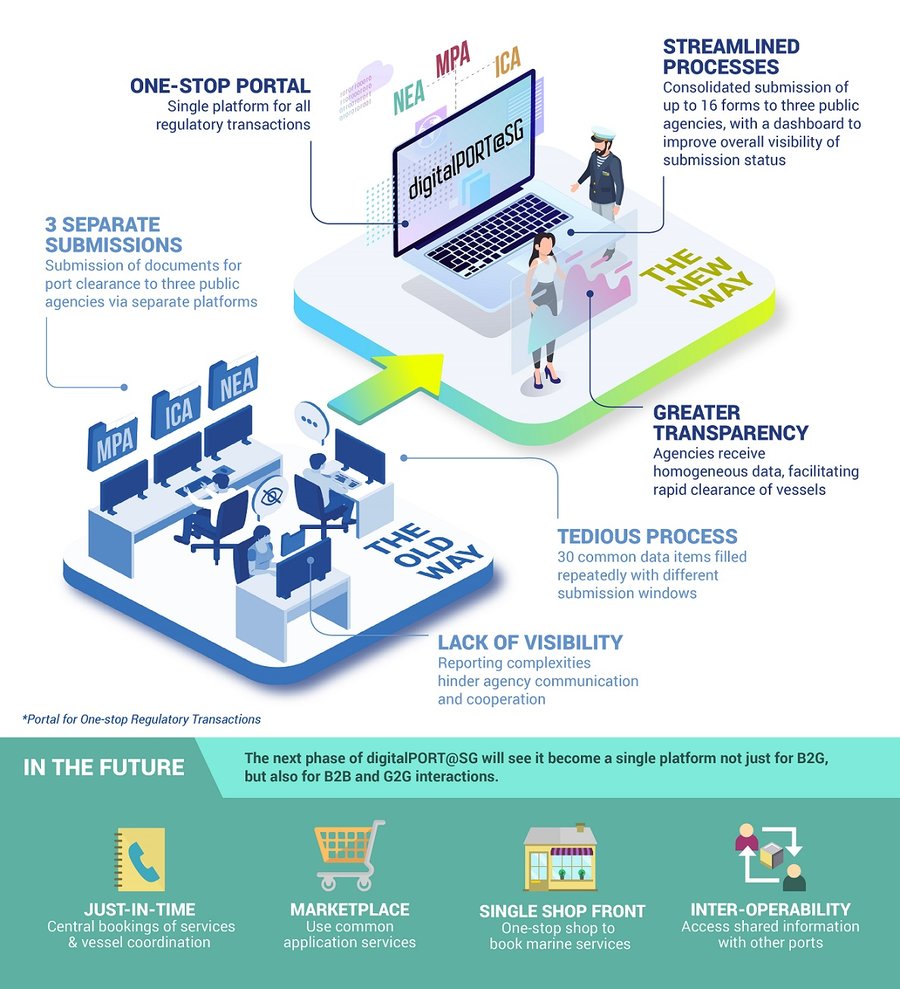 Just-In-Time (JIT) Planning and Coordination
The digitalPORT@SG™ Just-in-Time (JIT) Planning and Coordination Platform will facilitate optimal arrival and departure of vessels to and from the Port of Singapore, which will enable faster ship turnaround time as well as reduce dwell time at the anchorages before berthing. This is achieved through the use of artificial intelligence (AI) in the optimisation and scheduling of port resources.

Adopting a port-centric approach, the first release of the JIT platform is targeting container vessels and subsequent releases will cover tankers and bulk carriers. With improvements in operational efficiency, it will reduce the carbon footprint generated by vessels due to shorter port stays and better voyage planning. Port users will also benefit from savings or cost avoidance from shorter port stays.

To support the JIT platform, an active anchorage management system will be developed to optimise anchorage utilisation. When it is fully completed by 2022, digitalPORT@SG™ can also serve as a one-stop marketplace that can integrate with port and marine service providers to enable seamless access to services for customers and port users.