MPA participates in second Port Authorities Roundtable held in Rotterdam to enhance collaboration
24 June 2016
Singapore, 24 June 2016: | For immediate release
MPA participates in second Port Authorities Roundtable held in Rotterdam to enhance collaboration
Chief Executive of the Maritime and Port Authority of Singapore (MPA), Mr Andrew Tan, attended the second Port Authorities Roundtable (PAR) in Rotterdam, from 22 June till 24 June 2016.
2 Hosted by the Port of Rotterdam Authority (PoR), the closed-door roundtable event brought together port authorities from major ports in Asia, Europe and US to network, exchange views and explore areas of collaboration.
3 Participants included port authorities which attended the inaugural PAR in Singapore such as Ningbo Municipal Port Administration Bureau, Port Klang Authority, and Japan, Bureau of Port and Harbor, as well as new participants such as Port of Hamburg, Port of Los Angeles, Port of Long Beach and Port of Guangzhou. Among the topics discussed at the meeting included recent industry trends and developments, particularly in container shipping, safety and security, efficiency and sustainability. Mr Tan gave an update on Singapore's Next Generation Port & recent initiatives for safe, efficient & sustainable shipping.
4 Dr Bart Kuijpers, Erasmus University was the guest speaker at the event and presented on the global trends in the shipping industry. He shared on how developments such as slowing container trade, near-sourcing, automation, new connectivities such as China's One Belt One Road initiative, disruptive technologies such as 3D-printing and new supply chains could change the industry in future. To address these challenges, ports have to rethink their competitive advantage and be more responsive to their customers' needs.
5 Mr Andrew Tan, Chief Executive of MPA, said, "We thank Port of Rotterdam for hosting PAR2016 following the successful run of inaugural PAR in Singapore last year. Through this platform, port authorities can engage in frank and open dialogue and address issues of common interest in the areas of efficiency, safety and sustainability. Singapore is also pleased to be designated as the secretariat of this new grouping."
6 The second roundtable follows the inaugural PAR that was organised by MPA in conjunction with the 10th Singapore Maritime Week (SMW) 2015. Attended by 10 ports from Europe, Asia and Oceania region, the inaugural PAR was an initiative by Singapore to foster closer collaboration among ports facing the challenge of mega-vessels and mega-alliances, new international regulations, technological advancements and environmental sustainability. The host of the 3rd PAR will be announced in due course.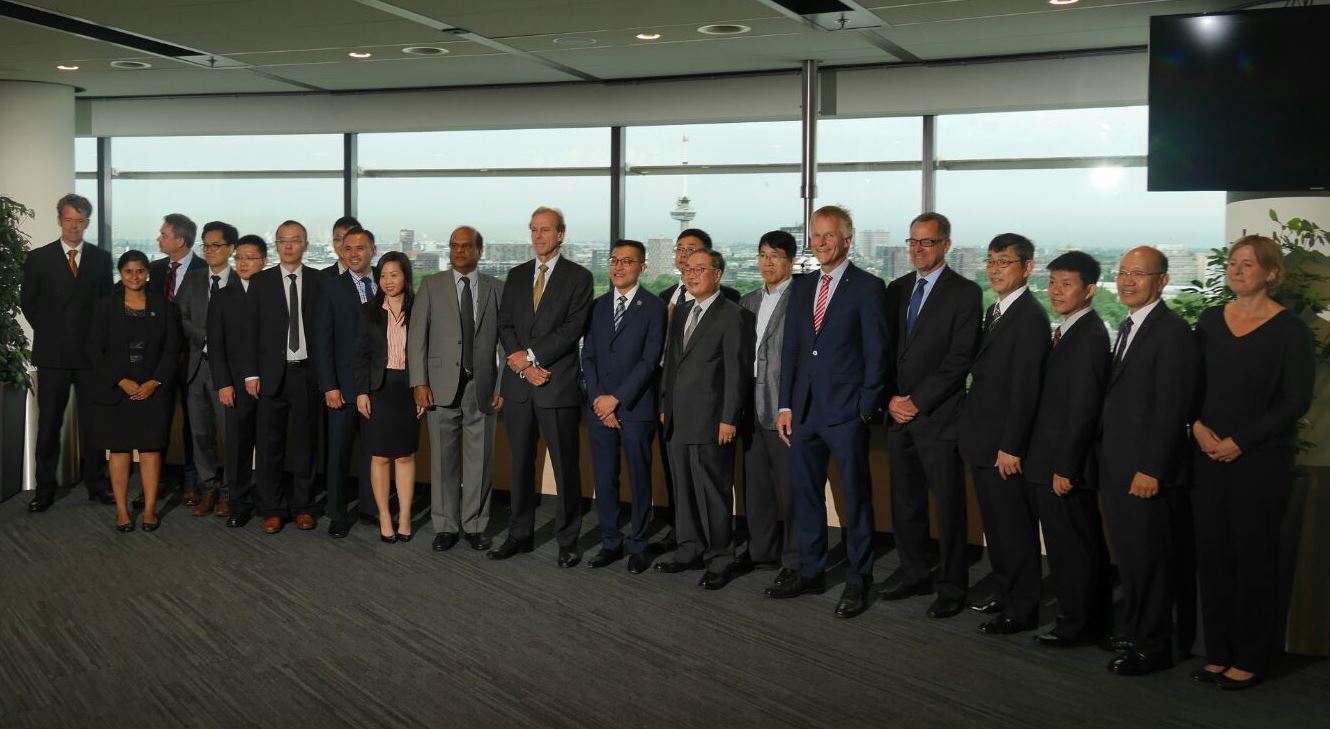 Port Authorities from around the world gather for the 2nd Port Authorities Roundtable hosted by the Port of Rotterdam Authority
<End of Release>