Port Authorities Roundtable: Port authorities from 10 ports strengthen cooperation at inaugural roundtable
20 April 2015
Port Authorities Roundtable
Port authorities from 10 ports strengthen cooperation at inaugural roundtable
The inaugural Port Authorities Roundtable was held in Singapore today in conjunction with the 10th Singapore Maritime Week 2015. Organised by the Maritime and Port Authority of Singapore (MPA), the closed-door roundtable event brought together port authorities from major ports around the world to network, share insights on pertinent issues and best practices, as well as to explore areas of collaboration. (See Annex A for the list of participants)

Prominent maritime economist Dr Martin Stopford, President of Clarkson Research Services Limited, was the guest speaker at the roundtable event. He shared his insights and perspectives on the maritime industry and the future of containerisation.

Shipping is a global business. To stay ahead, port authorities must keep abreast of industry trends and work closely with the industry to develop innovative solutions in tackling the challenges. With the theme 'Future Ready Ports - Challenges and Opportunities for Port Authorities', the participants had a lively and spontaneous discussion on efforts to improve port safety, efficiency, sustainability, and the adoption of future-ready technology and infrastructure in ports.

Mr Andrew Tan, Chief Executive of MPA, said, "The maritime industry today continues to operate under challenging market conditions. Some of these issues require high-level international cooperation. The inaugural Port Authorities Roundtable provides a suitable platform for port authorities to discuss how we can be better prepared for the evolving challenges posed by changing trade patterns, larger ships and mega-alliances as well as growing pressures on ports to meet the future needs of the maritime industry. It also allows us to exchange best practices and new ideas, thereby providing more opportunities for future collaborations."

MPA and the Port of Rotterdam Authority also signed a Memorandum of Understanding (MOU) today to exchange information on marine services and jointly collaborate on research and development in the areas of service efficiency and optimisation, and new developments in the maritime and port sectors. The MOU was signed by Mr Andrew Tan, Chief Executive of MPA, and Mr Allard Castelein, President and CEO, Port of Rotterdam Authority.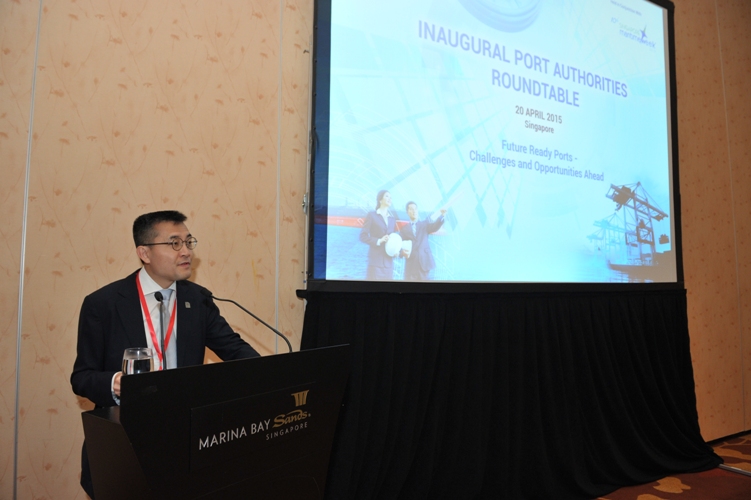 Mr Andrew Tan, MPA Chief Executive, delivering his opening remarks at the inaugural Port Authorities Roundtable
Discussion at the inaugural Port Authorities Roundtable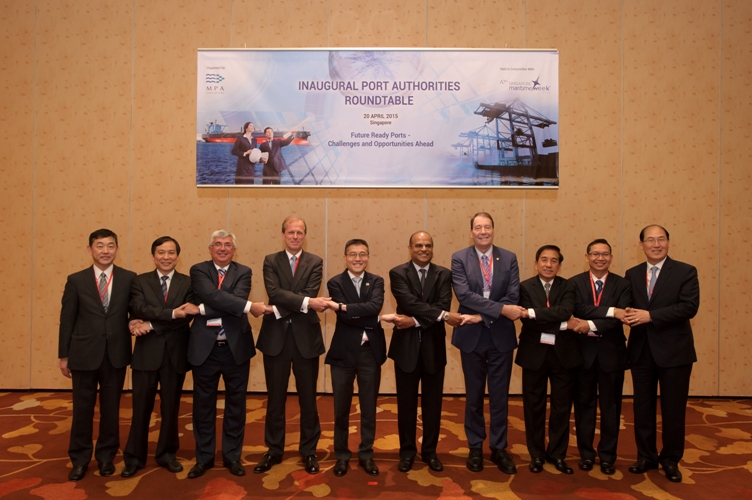 Leaders from the 10 port authorities pose for a group photograph

<End of Release>
About Singapore Maritime Week (19 - 24 April 2015)
Singapore Maritime Week (SMW) is the leading maritime event in Singapore. Driven by the Maritime and Port Authority of Singapore (MPA), SMW gathers the international maritime community in Singapore for a week of conferences, dialogues, exhibitions and social events in celebration of all things maritime. The range of activities and events organised by MPA, the industry, and research and educational institutions, as well as the cosmopolitan profile of participants, reflect the vibrancy and diversity of Singapore as a major international maritime centre.

SMW has grown in significance since the inaugural event in 2006, and is attracting more participants and event organisers from around the world. Participants can experience something new every year, as activities are added to the line-up, and as eminent speakers share their insights and participate in dialogues on topical maritime issues. This dynamism and the good range of issues discussed during SMW are major draws for maritime decision-makers, as are the many business networking platforms. This is why Singapore Maritime Week is all about PEOPLE, IDEAS and OPPORTUNITIES for the maritime community.

For more information and the full calendar of events, please visit www.smw.sg.