Industry Digital Plan
Sea Transport Industry Digital Plan (IDP)

The Sea Transport Industry Digital Plan (IDP) is a joint initiative with Infocomm Media Development Authority (IMDA), Enterprise Singapore (ESG) and SkillsFuture Singapore (SSG), as part of the SME Go Digital Programme that makes going digital simple for SMEs. It provides SMEs with an easy-to-use, step-by-step guide to support them in the adoption of digital solutions.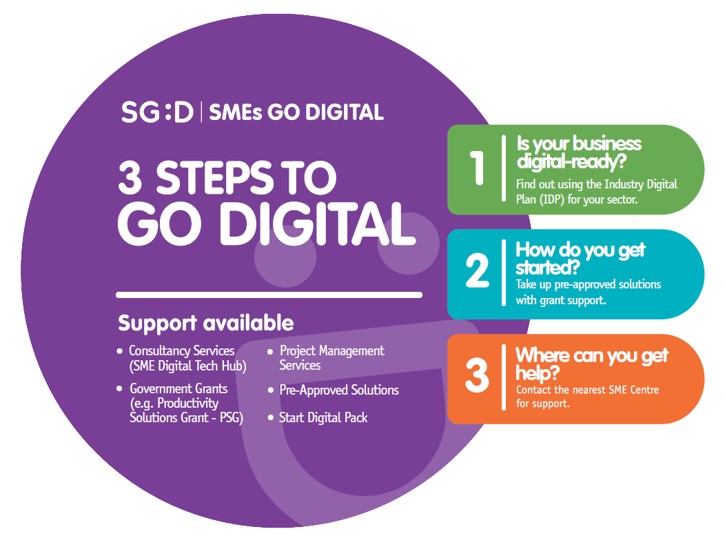 Who is it for?
A digital roadmap of the IDP has been developed for ship agency, harbour craft and bunkering SMEs in the Sea Transport industry and charts out digital solutions that SMEs can adopt at each stage of their growth. Larger enterprises in the Sea Transport industry can also use the digital roadmap to guide their digital journey. The IDP also includes a Digital Roadmap (Training) to ensure that the industry's workforce is adequately prepared with the necessary skills to adopt digital solutions, and is ready for changes that come with digital transformation. Please click on the respective hyperlinks to download the ship agency (.pdf, 3 MB), harbour craft (.pdf, 3 MB) and bunkering (.pdf, 7 MB) IDP roadmaps (visit https://www.imda.gov.sg/sea-transport-idp for more information).
Maritime-specific digital solutions
To ease SMEs' adoption of digital technologies, MPA and IMDA have curated a list of maritime-specific digital solutions for the ship agency, harbour craft and bunkering SMEs to meet their needs. The funding quantum to adopt the list of maritime-specific digital solutions is up to 70%, capped at S$30k per Financial Year for each SME applicant.
SMEs interested to apply for the Sea Transport IDP Grant can contact MPA_IDP@mpa.gov.sg. The application form can also be obtained from the approved vendors.
Sub-Sector: Ship Agency

Team collaboration made easy.

ChartDesk is an innovative software designed to enable collaboration among commercial ship operation teams & port agencies. This software-as-a-service solution eliminates the challenges of sharing a common mailbox among a group of people and satisfies the rigorous business requirements for searching and storing long term archival of huge volumes of emails. By integrating some of the most commonly used tools like a vessel database and AIS functionalities, ChartDesk is the ideal first step towards digitalization for delivering operational efficiency and cost savings for your organization.





Imagine a virtual colleague who will help with you tasks without getting sick, tired or bored! Gleematic A.I. Robotic Process Automation (RPA), can be that ideal assistant who can assist you, even when you cannot go to office. It mimics mouse-clicks and keyboard-strokes to access multiple IT applications and web portals to complete business processes. Some of the features include:

Copy data from one system (e.g. your Order Management System/ CRM) and paste into another (e.g. Portnet, Marinet, digitalPORT@SG, your customer's Fleet Management system/ Enterprise Resource Planning System) without requiring any coding.
Drag-and-drop files from one file location to another, or generate reports using data from pull data from multiple sources to generate reports on your existing application platforms.
Recognise and extract data from different types of documents (pdf or image files of shipping instructions, Bill of Ladings, crew passport, etc.) in Asian languages such as Chinese, Indonesian, Vietnamese. There is built-in OCR included to handle scans of printed documents.
Built-in Artificial intelligence (AI) can also do things such as sorting out emails by different categories, identify sentiment of customers' feedback, recognise images such as logos, or to make predictions.

Gleematic is different from typical RPA solutions as it empowers users with Artificial Intelligence without requiring programming knowledge.


(*) – Solution has been adopted by <5 customers
Maritime Technologies (R&D) Pte. Ltd. (*)
Web URL: https://www.shipsfocus.com
Contact Hotline: +65 6470 9165
Contact Email: james@shipsfocus.com
BOOK-A-LAUNCH: VM (Vessel Management) is an innovative cloud-based web & mobile software solution intuitively designed to provide clarity and visibility of the day-to-day passenger launch service. Key Features includes:
Real-Time Tracking of all your assets
Historical Tracking
Real-Time Tracking of destination vessels
Fleet (Boat) & crew (Boatman) Assignment & Deployment management
Seamless integration with other modules & software (Order Management, Accounting, Payroll etc.)
Mobile App for Tracking
Brightree Pte. Ltd.
Web URL: https://www.brightree.com.sg
Contact Hotline: +65 6702 6082
Contact Email: enquiry@brightree.com.sg
Brightree's basic fleet management solution is an excellent choice to provide harbour craft owners automation and digitization of workflow with the aim of increasing productivity and reducing operational costs. Our cloud-based solution offers:
Real-time vessel tracking and monitoring with historical records
Vessel deployment scheduling/crew assignment
Document management
Integrate with other systems e.g. order booking and deployment management, accounting
These data are accessible 24x7 via a web portal. You now have clear visibility of your vessels and can make faster decisions to address issues before they arise. We are also able to seamlessly upgrade your basic system to the advance fleet management solution.
Innovez One Pte Ltd
Web URL: https://www.innovez-one.com
Contact Hotline: +65 6505 9828
Contact Email: joy@innovez-one.com
marineM Vessel Management System is a cloud-based solution delivers that real-time monitoring of vessels on a map-based web interface. For each vessel, the solution delivers the following key features :
Real-time Tracking of launch movements
Real-time Tracking of mother vessel movements
Estimates fuel consumption as well as traveling speed.
AI-based Scheduling engine intelligently predicts vessel unavailability due to refueling.
Real-time chat function>
Vessel Management System is seamlessly integrated to Order Booking and Deployment System
marineM platform delivers key features that supports remote and home-based users to work collaboratively in activities involving vessel management.
Helm CONNECT
Web URL: https://www.helmoperations.com/
Contact Hotline: 62390280
Contact Email: product.apac@spectec.net
Helm CONNECT is a vessel management and optimization solution designed to connect your maintenance, compliance, personnel, and operations together into one easy-to-use system. Helm CONNECT has become the fastest growing platform for managing marine operations and is now used by over 250 companies and 5000 assets globally. Whether it is managing safety and compliance, maintenance, personnel, inventory, billing, or jobs, Helm CONNECT gives you the power to do your job more efficiently.
Sub-Sector: Bunkering

BTS Pte Ltd

Contact Hotline: +65 6423 4712

BTS developed iBOMS over a decade ago in order to give bunker suppliers an elegant and paperless way to manage their bunker supply operations. Singapore bunkering standards are completely incorporated software meaning suppliers can manage their business end to end with a click of the button.




BTS Pte Ltd

Contact Hotline: +65 6423 4712

BTS developed iBTMS over a decade ago in order to give bunker suppliers and traders an elegant and paperless way to manage their bunker supply business. Singapore bunkering standards are completely incorporated software meaning suppliers can manage their business end to end with a click of the button.
Non-maritime specific digital solutions

For non-maritime specific digital solutions, e.g. account management, customer relationship management, human resource management, etc., SMEs may also visit the Government Assistance for Business website.

Consultancy & Project Management Services

Business Advisory: Maritime SMEs that wish to have a more comprehensive review of their business can approach the SME Centre @ SICCI for complimentary business diagnosis and advisory on support programmes relevant to their operations.


Specialist consultancy: SMEs that require specialist consultancy on more advanced digital solutions will be referred by the SME Centre business advisors to the Principal Consultants at the SME Digital Tech Hub.


Project Management Services: SMEs can also engage Project Management Services to support them in the implementation of the digital solutions. The project managers can help with business processes re-engineering and job redesign to get the maximum benefits and have more sustainable outcomes from going digital.
Start Digital Pack
SMEs who have started their business or are new to digital technology can take up a Start Digital Pack to give them a head start in going digital. The Start Digital Pack offers easy-to-deploy and scalable solutions in Accounting, HR Management System & Payroll, Digital Marketing, Digital Transaction and Cybersecurity. SMEs can adopt any two solutions from the above categories for free for a minimum of six months with a contract period of at least 18 months.
Video on Sea Transport Industry Digital Plan for Bunkering sub-sector